Welcome to Nora May's Bar & Bistro
at Charleville Golf Club
Nora May's Bar & Bistro serves delicious breakfast and lunch 7 days a week in a beautiful setting overlooking the scenic golf course.
Our Sunday lunch is a real treat and not to be missed but if you're in a hurry a  takeaway lunch service is available.
We are able to offer a fully seated dining experience for all occasions; christenings, birthdays, communions, confirmations, anniversaries, funeral receptions, the list is endless.
We also provide a full outside catering service for all occasions.
Call in to see us at Charleville Golf Club where we will be only too please to discuss your event, tailor it to your wishes and provide you with everything you might need to ensure that your special occasion is one to remember.
For bookings please contact 063-81257 (ext 3) or 087-7664181.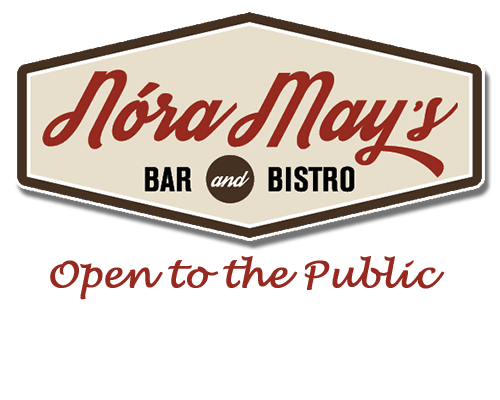 Breakfast

Scones Fresh Baked Daily

€ 1.30

Bagels / Croissants

€ 5.95

With Cream Cheese and Smoked Salmon

Scrambled Eggs & Smoked Salmon

€ 6.25

Fresh Homebaked Muffin of The Day

€ 2.65

Big Burger Platters

The "9 Iron"

€ 9.95

Tender Crumbed Chicken Fillet filled with Cheese and Bacon served in a toasted bap with mayo.

The "Caddy"

€ 9.95

Two Tender Juicy 4oz, Prime Irish Beef Burgers Covered with Jalapeños, Relish and Mozzarella.

The "18th"

€ 9.95

A tasty vegetarian option. Veggie burger served with coleslaw and crisp iceberg lettuce.

The "Clubhouse Special"

€ 9.95

Two or our prime, juicy 6oz burgers topped with bacon, onions, cheese and relish.